We want you if you have an assiduous attention to detail and zealous commitment to amazing work product.
Join Trendzact in one of its five (5) regional coloration "hives" or use Zoom's video technology for "always on" video conference "Team Hives". These video conference rooms are our arena for the open, honest exchange of information and free sharing of knowledge. Our global culture of collaboration and partnerships with the world's top technologists is why Trendzact is regularly recognized by its employees & resources as a best place to work. Note, the "hive" references are an homage to Trendzact's corporate offices located in Utah. The state's beehive symbol represents industry and the pioneer virtues of thrift and perseverance.
All of our us work wherever we'd like—reliable internet access is our only requirement. We sign into our Zoom "Hive" room, open up our work tools, and take ownership of our work.
To join our awesome family, send your resume to careers@trendzact.com
Our commitment to a meaningful and successful environment drives our contributions. We're dedicated to building a warm, open, and inclusive work environment—one that's safe for people of all backgrounds. To this end, when you join our team, you agree to a code of conduct.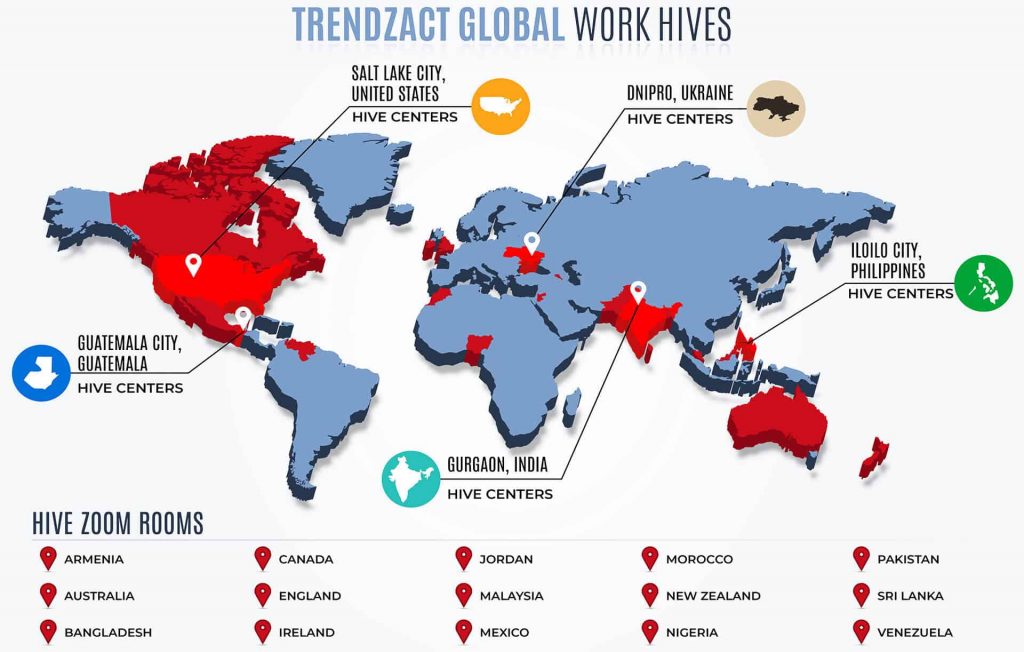 Trendzact is a modern software development company focused on CRM strategy, technology, and business transformation.
We're a group that is thrilled to be working together – in concert with our clients – to deliver the best contact CRM solutions in the world. Building the future in a shifting landscape requires agility of action and attitude. So, in cities across the world, Trendzact's teams have the autonomy to move fast and do what's right. They're our arena for the open, honest exchange of information and free sharing of knowledge, through each sprint, every stand-up.